I will start with a statement from an American on Facebook in a group about Ataxia:
"Even though I am surrounded with good friends and family, I still think every night: Ataxia sucks".
I met Els 11 years ago during a six-monthly meeting about our illness. Since we are now at about the same stage of our disease and we have the same vision of life, I thought it would be ideal to change houses for a week. So I could go on holiday with Nele to Sint-Truiden and Els and her boyfriend could take over my life. We both need adjustments and therefore it is not easy to go somewhere on hotel. We both have a lift on the ceiling and we are dog people…
So much for the idea, but how was it in reality? Els and Dima came to our house a month in advance so Nele and I were able to explain everything (the stove, the bath and which plants to water). It was a very pleasant afternoon.
To get to Limburg, we ordered a taxi. We took our bikes with us. Els and Dima were still at home that day so they could explain everything in their house before leaving for Sint-Amands. Els' assistant was still present at the time and she showed us some useful addresses overthere. During a drink we said goodbye.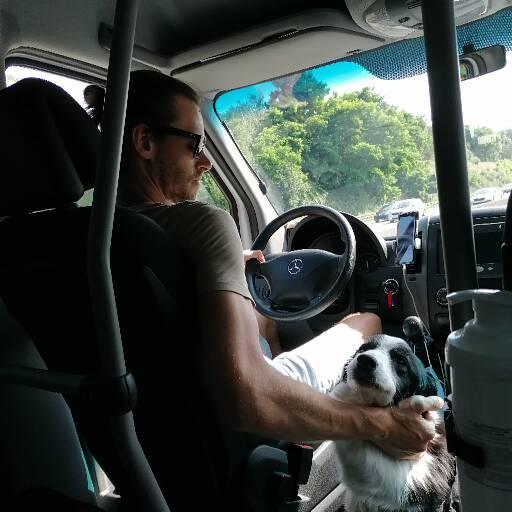 In the evening we enjoyed a drink in the courtyard. The garden was much more cozy than ours and fully equipped for the dogs: artificial grass everywhere, even a swimming pool and a parasol for the animals. Later we could try all the gadgets of the house, such as a massage chair. I don't like to compare people but I can compare the adjustments
There were two ceiling lifts, one downstairs (to the WC and the sofa) and one upstairs (to the toilet, the massage chair, the bath and the bed). In the bed was a Tempur mattress (slow foam) which makes it very difficult to turn, but it is very comfortable. To go from the ground floor to the top there was a very compact lift. The kitchen was height adjustable and the Motomed she has is much better than mine.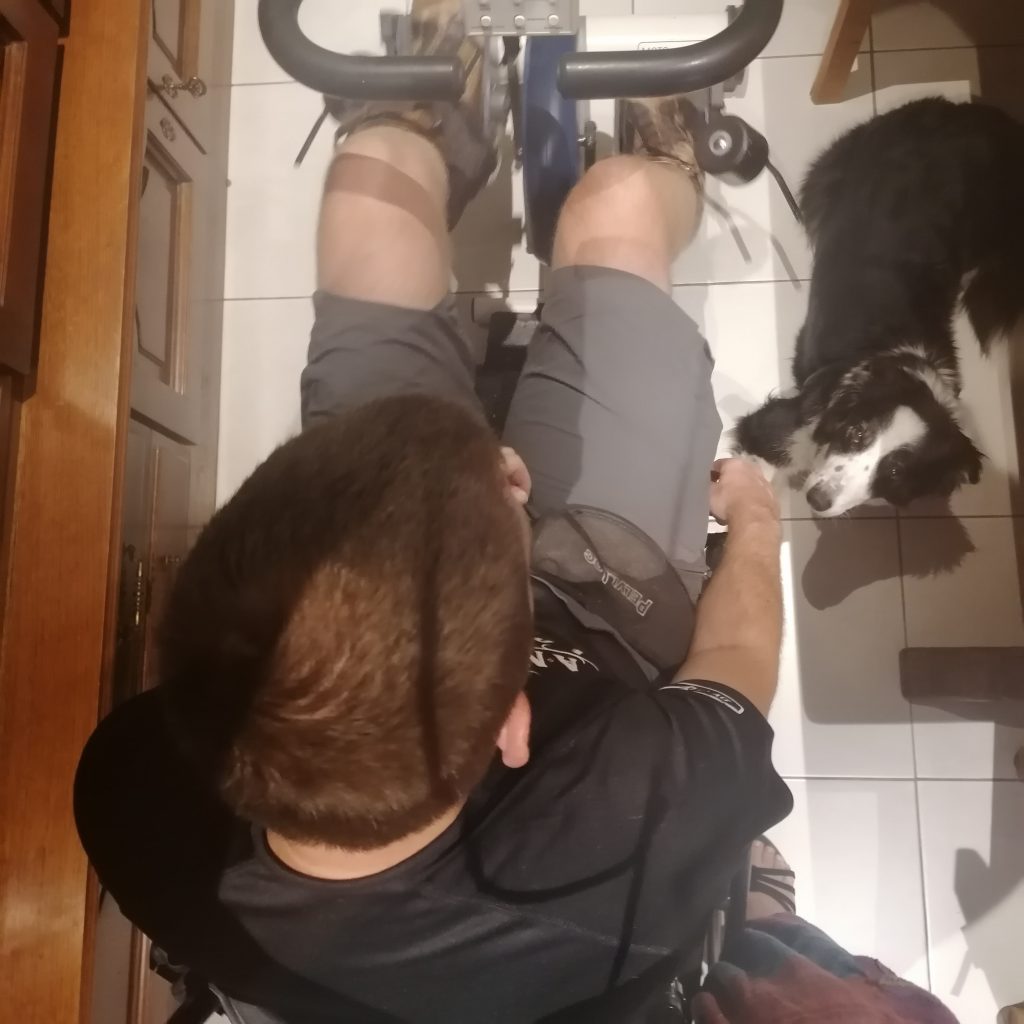 The things Els told me afterwards is that my bath is much more pleasant because it's bigger and there are handles on the side. On the other hand, she found the walls in the bathroom very bare. She also loved my clock in the bedroom. This clock projects the hour on the ceiling in such a way that you can easily see what time it is when you wake up at night. My toilet was also popular; I have an Aqua Clean from Geberit. If you're curious now, you can always look it up (or come to my place and test it).
Sint-Truiden was ideal for cycling. The hills made it a challenge to see the region well. Nele's sister also came by for two days with her girlfriend and together we made it a splashy holiday.
Meanwhile, Els and Dima especially enjoyed the garden feeling and tranquility. The dogs were apparently fans of real grass.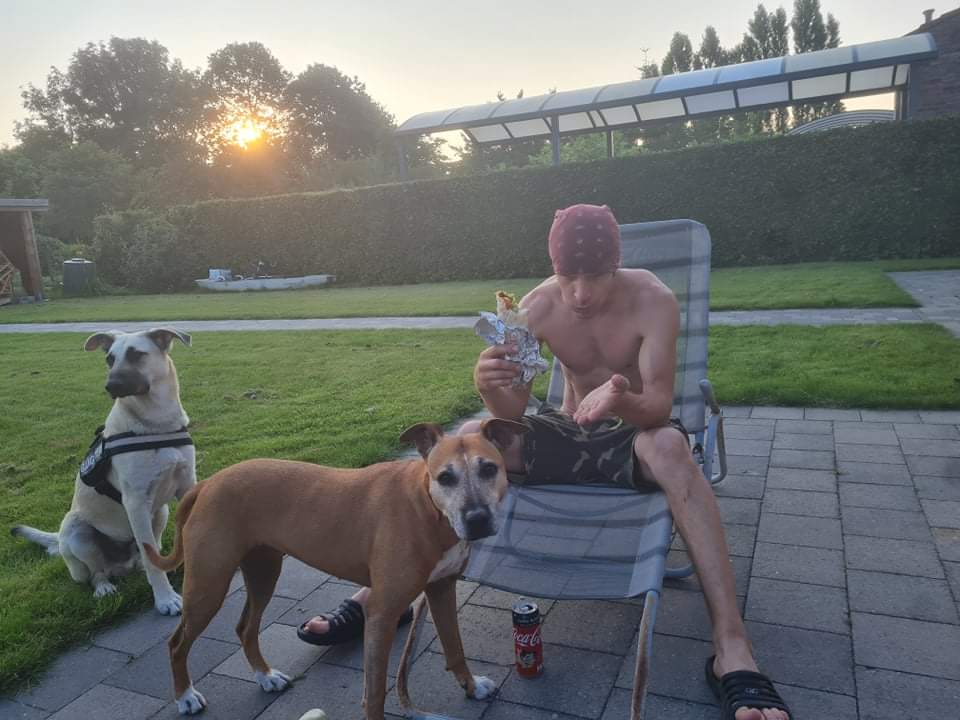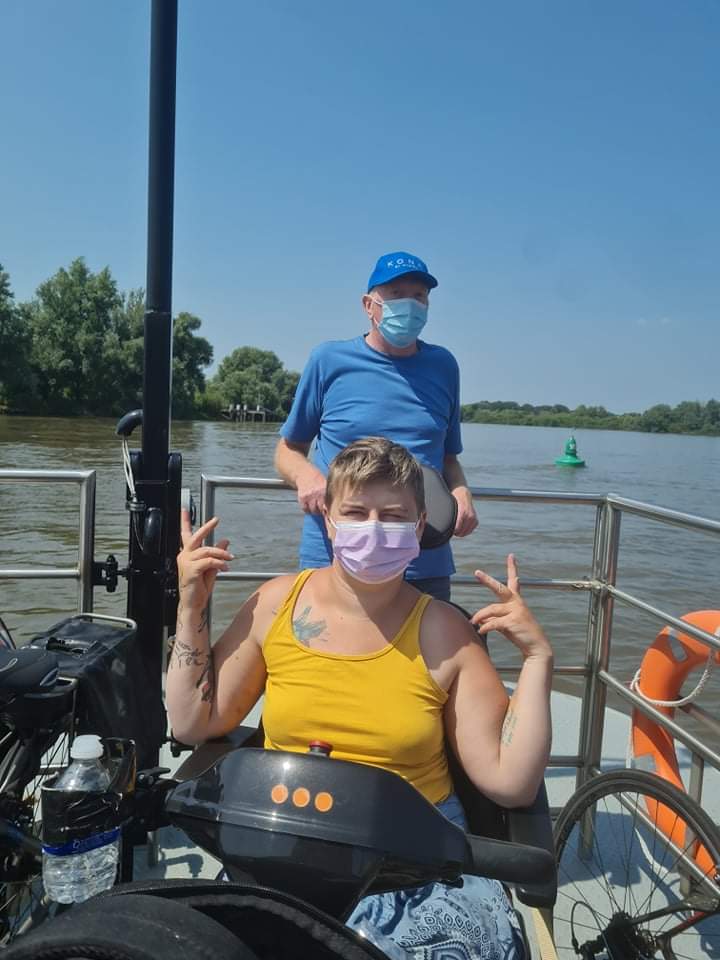 Worth repeating! Next year we'll go even longer… It would also be ideal to take the same principle to further destinations. People who are interested can always give me a shout. To sketch out a bit what my house looks like, I made a video.
Now you know why I started by referring to the story of the American.